1917: Butcher shop
In 1917 Leo the first generation, founded his own butchershop in Lisse, The Netherlands. Here he started with butchering cows and pigs.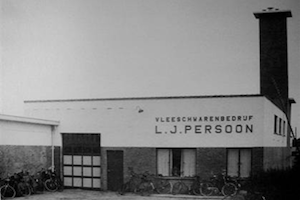 1930: VLEESWARENFABRIEK
To keep up with the demand at the butcher shop, de vleeswarenfabriek was founded. Vleeswarenfabriek Persoon became the wholesaler of West-Netherlands. Slowly more butchershops were founded.
1950: PERSOON GOES INTERNATIONAL
In the early '50's the export started to England with liver paté, ham and canned meat balls.
1970: SPECIALISATION
In the late 60's slaughtering own lifestock comes to an end, this is also the start of exporting bacon towards the Uk. In the early seventies Euromeats is purchased, this section provides the backs. All of the butchershops are sold to the Vleeschmeesters.
1992: THE THIRD GENERATION
In 1992 Leo takes over the tasks as managing director, after his father past away that year.
Customer focused

100+ year old family company

Reliable partner

High and stable quality

Strong in client specific products